Sulu Fitzpatrick's Swansong – "It's Time for Me to Be Mum"
May 30, 2023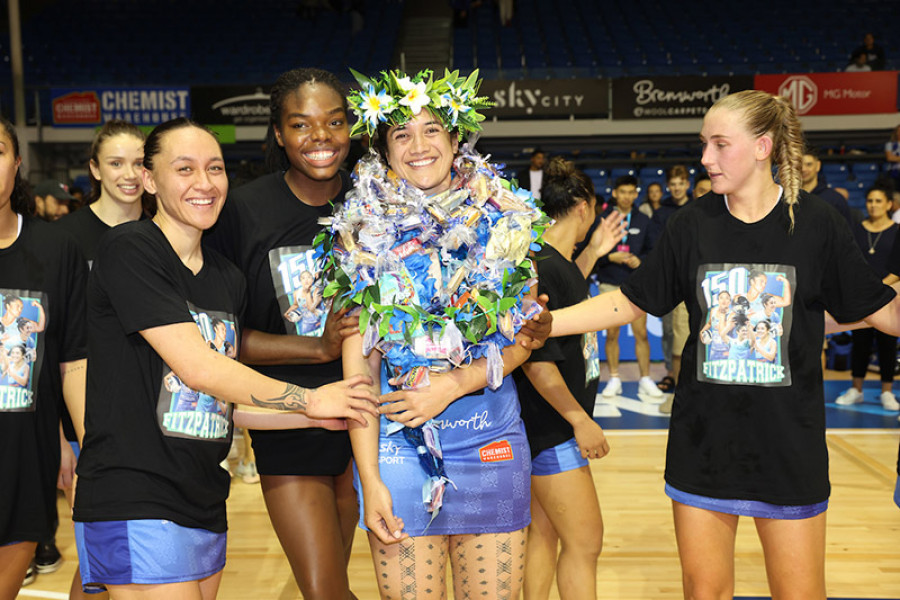 When Mystics and Silver Ferns star Sulu Fitzpatrick announced her retirement from professional sport more than a year out from her final game, it sent the netball world into a spin.
But even though her retirement party is an extended one – orange slices and electrolyte drinks for all! – Sulu's never been more determined to end her netball career her way, despite a knee injury sidelining her for weeks as she hunts down one final black dress.
And as she prepares to step back from the gruelling demands of sport to enjoy some time on the sidelines of her kids' sporting matches for a change, she's at peace with the imminent closing of one of the most defining chapters of her life.
Kia ora Sulu – and happy last year of netball! You announced your retirement pretty far out last May, is 2023 kind of like one big retirement party?
[Laughs] it wasn't deliberate! I was just speaking off the top of my head and I said it – so I rolled with it! I guess it was meant to happen that way, and in a way it's a blessing, it's given me a long time to prepare for it and really enjoy every day.
We're at the end of a four-year cycle in netball world, with the World Cup marking the end – is that why you're deciding to hang up your bib now?
I'm a strong believer that everything happens for a reason, and things will happen as they're meant to, even injuries like the one I've had this year. It's weird when that happen – I didn't panic or worry. I walked off the court and told the management that I knew it wasn't good, but it was nothing to cry over. I knew it was part of God's plan and I wasn't sure what it meant at the time, but it was supposed to be that way.
I've been able to add value from the sideline which has been amazing, and it gives me the opportunity to learn and give other players additional opportunities too. And it's given my body some time out as well! Now I'm back and giving all I have to give my self a chance at getting to South Africa, and trust things will happen as they're meant to.
That's spoken like a true captain – and it must be a great thing to know that you don't have to be on the court to be really valuable to your team.
The conventional way that people view netball is that you have your starting seven, but I think that a team is so much bigger than that. Different people add different things onto the court – some people are better at starting, and some people are better at making an impact. I'm a strong believer in that, so I was ok to be supporting from the side for that moment of time and it has prepared us well for this end of the season.
What was the deciding factor for you when it came to calling time on your netball career?
My children, and knowing that they really need their mum at home. If I could have it both ways I could probably continue doing both, but that's just not realistic. My family and husband has taken a lot of the load behind the scenes. The kids are older and they need their mum to be on the sidelines for their games now. I also want to be there to support their education, especially with the disruption that Covid has had.
But also the other side is that I don't want to block the pathway of other players coming through, and since I've been on the side I can see that there are players that are ready for their opportunities and to take on leadership roles on the court. Like I say, everything happens for a reason! I'm just focused on giving my best while I'm still here.
100%! How old are your kids now!?
Together we have three nine-year-olds and an eight-year-old! I think my husband is keen for me to be Mum & Wife and pick up some the slack at home!
Do you have any other dreams and aspirations as to what you might want to do post professional netball?
I know I'm not a superstar, but I'm a team player and I'll always give my best and work to bring the best of out others. So anything that's to do with helping people, I'm all for! I'm currently doing my masters in sociology, I'll finish up next year, so from there I'll trust my gut and go where that leads me. I'll always be connected to the Mystics and netball, but it'll look a bit different when I'm not in a dress or running yo-yos!