Steel complete impressive defensive roster
June 30, 2023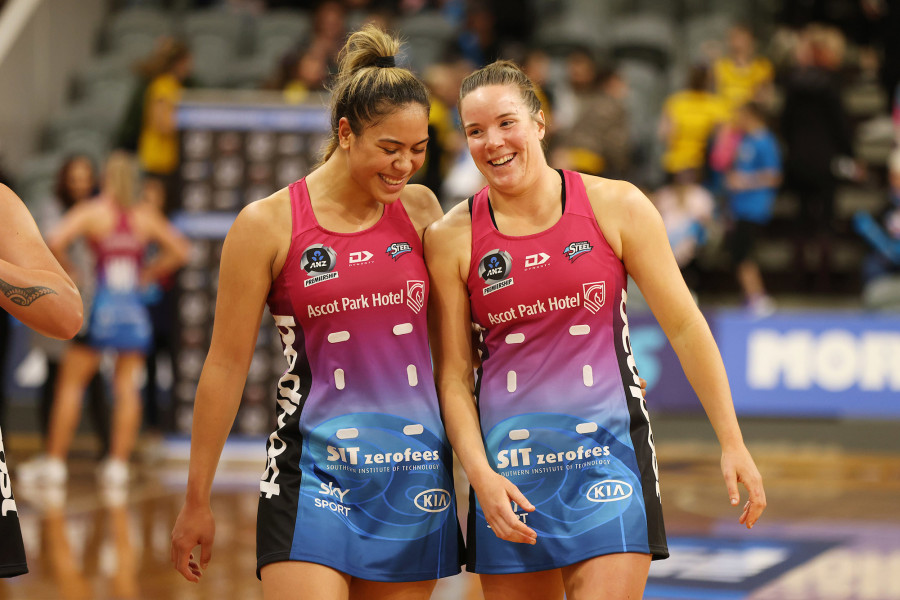 Highly rated South African Proteas defender Jeante Strydom will bring her talents to the Ascot Park Hotel Southern Steel next season.

Strydom will join forces with former Steel players Taneisha Fifita and Abby Erwood, who return following a two-year and three-year hiatus respectively, completing the franchise's roster for the 2024 ANZ Premiership.

The final squad includes George Fisher, Georgia Heffernan and Grace Namana in the shooting ranks, with Shannon Saunders, Kate Heffernan, Renee Savai'inaea and Ivari Christie in the midcourt.

Head coach Reinga Bloxham was eager to see the team's potential.

"There is a familiar feeling about our defensive end. It's exciting to welcome Taneisha back to the Steel after supporting her time away on her mission. She is talented but also prepared to work hard to get herself back and ready for competition," she said.

"Abby had an awesome national netball league season and she has shown her hard work ethic and perseverance so it's great to have her back.

"Jeante completes our defensive line up. When we were searching the globe I knew we needed someone who could work with the strengths of Abby and Taneisha, who would add value to our team environment and who has a strong work ethic too. She is so excited about the opportunity and I'm looking forward to seeing her shine here at the Steel."

Strydom, 26, was recently named in the South African Proteas to contest the Netball World Cup in Cape Town, earning the nod of world coaching legend Norma Plummer.

After international duties concluded, she was eager to move to New Zealand.

"There's two things I'm really excited about. The first one is that I will not only be part of a netball team but part of a huge netball family because from what I've heard and seen the Steel team and community has a really good and healthy team culture on and off court," Strydom said.
"The second thing is that coming from South Africa where netball is not professional as yet, I'm excited to put my full focus and attention on netball instead of juggling training sessions, work and recovery all at one."

She was aiming to make an impact.

"I think every sportsperson loves winning so one of my aims will definitely be to help my team win games by 100 percent doing my job on court and as a defender to force errors or to turn as much ball as possible so that our attacking side get more opportunities to score. I want to grow my own game and get comfortable with different styles of play," she said.

"I'm an extremely hard worker because I set really high standards for myself but I'm not a big talker and for that reason words don't motivate me but training hard and feeling prepared physically motivates me, so one big thing I will bring to the team is to motivate them by action and pushing them to train harder and give even more even when they feel tired."

She is no stranger to plying her skills abroad, completing a stint with the Bond Bull Sharks in Australia to hone her talents.

"I'm very keen and excited to broaden my playing style. I think it is a huge advantage to be able to play more than one style of netball because not all opponents you play against plays the same type of netball. The more playing styles you as a defender can play the better you can counter your opponent."

For now, her focus was firmly on representing her country at the sport's top echelon.

"Being part of a World Cup alone is a huge honour and so exciting but playing on home turf just takes that feeling of pride and excitement to the next level because you even more so want to put up a good performance for your own people. You want to make them proud and, let's be honest, nothing beats the feeling of playing in front of a home crowd."

Steel chief executive Sonya Fleming confirmed the franchise was able to enlist a second international player as Fisher was no longer classed as ineligible under the competition's rules.

"George has now lived in New Zealand for the past two years and meets the eligibility criteria set by netball's governing body," she said.

"In the search for a defender this certainly allowed us to cast the net a lot wider and we are thrilled to welcome Jeante to our Steel family as a result."

The Steel is keen to continue benefitting from the netball prowess of Te Huinga Reo Selby-Rickit, who will focus on a career switch to specialist coach in 2024.

"Netball in the south has been a massive part of my life for so long and I'm looking forward to continuing my involvement if the opportunity arises, albeit in a different capacity and with a new perspective," Selby-Rickit said.

"Coaching gives me a new challenge and I'm ready to tackle that while contributing positively to new environments and player development."
Southern Steel 2024 team:

Ivari Christie
Abby Erwood
Taneisha Fifita
George Fisher
Georgia Heffernan
Kate Heffernan
Grace Namana
Renee Savai'inaea
Shannon Saunders
Jeante Strydom